Custom Fabrication
Sample Applications
Applications of Alumina Ceramics
Miniature Bars
These bars, 1.2 mm wide and 0.63 mm thick were made for a manufacturer of medical implants. They chose alumina ceramic for its high strength, excellent electrical insulation and chemical inertness. They chose us for our capabilities in fast, high precision machining.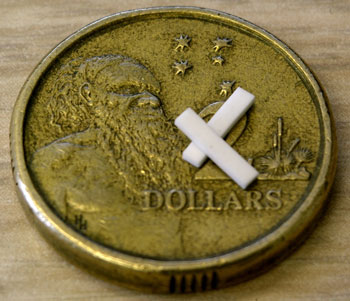 4 mm diameter pivot pins
These 4 mm diameter pivot pins allow a larger component to turn on a tungsten carbide substrate with minimal friction and wear.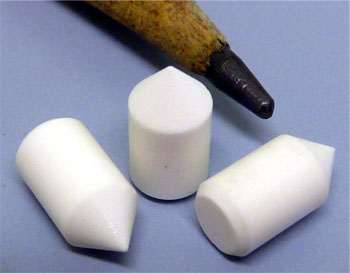 Ceramic Ruler
A ceramic ruler has the advantages that it is stiffer and more stable, won't nick or dent and is all but immune to corrosion. Even welding spatter can usually be scratched off with your fingernail!
The edge of this ruler is lapped straight to within a few microns and the graduations are accurate to within 0.1 mm.
We have supplied inch rulers to an aircraft manufacturer in the USA, graduated in 32nds and 64ths of an inch.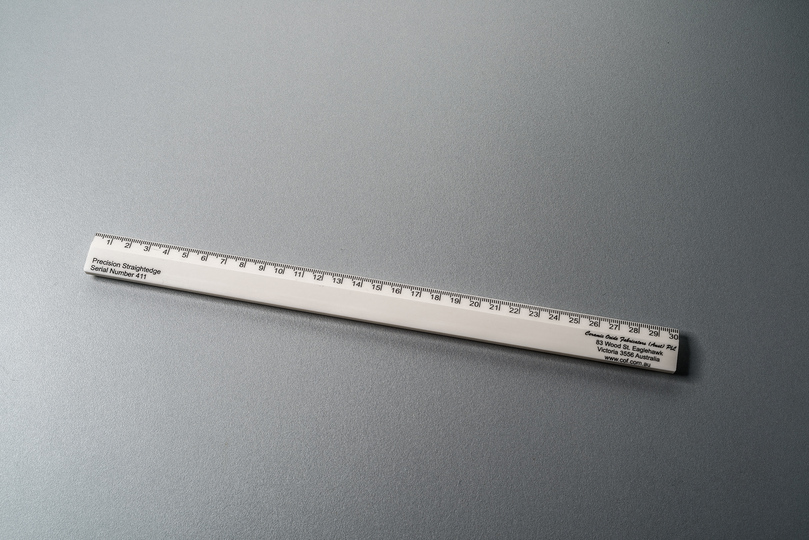 Plasma torch insulator
A stainless steel fabrication company needed a custom-made plasma torch, which called for a custom-made insulator with provision for cooling air flow. It had to be a precision fit in the housing, Here is the result of extrusion followed by grinding.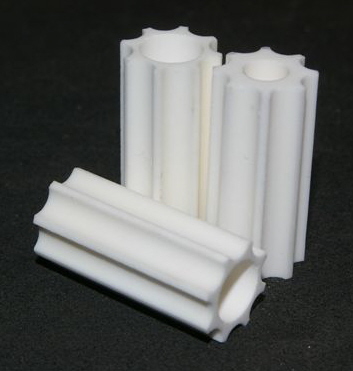 High Power Insulators
These insulators are used in a high power, high voltage, radio frequency generator. The outside diameter is precision ground. Not the delicate thickness: 3mm! Alumina was chosen for its excellent electrical properties under extreme conditions.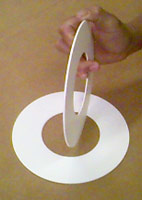 Wire Guides
High purity alumina is well known as an outstandingly hard and abrasion resistant material. So, when on of Australia's largest manufacturers of wire cable cam to us for a set of alumina wire guides, we were not surprised. We were surprised when they said they needed 160 guides of a completely new design custom-made in two days! Thanks to our skilled staff and excellent diamond machining, the order was shipped in 28 hours.
Controlled Bluntness
The tips of the multiple blades of a highly specialised cutting shear had to be just fine enough to follow a soft, irregular surface, but blunt enough to be sure that they would not cut or puncture it. We came up with a precision extruded section having two concave grooves along it with controlled root radii of 0.18 and 0.16 mm. The outstanding abrasion resistance of alumina allows a perfectly formed bead to be formed on hundreds of tips.